Darcia Lee is one of the best new VR pornstars for a reason: she's really fucking cute. She's brunette, she's got big boobs and she ALWAYS has a blast when she's in front of the camera. She also likes to have a blast in her face if you know what I mean.
Scenes: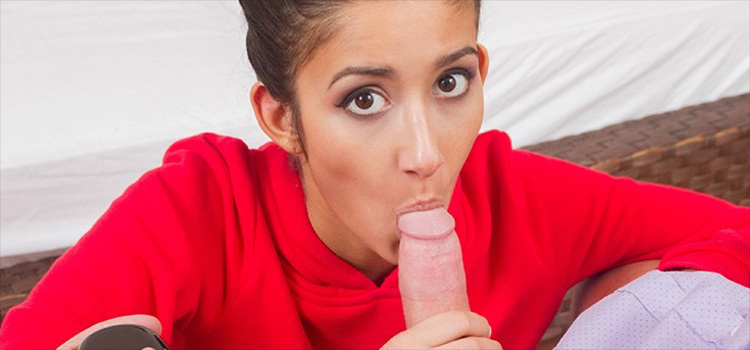 Thief In Training from Virtual Real Porn

There's no time wasting or fucking around with this clip, Darcia Lee is an amateur thief and you've managed to catch her trying to steal your stuff. She knows she's caught and she obviously doesn't want you to call the police, so the only option she's got is to try to fuck her way out of this situation. Darcia has such a nice body, it's hard to believe she has to resort to a life of crime, but hey, that's what happens on this bitch of an Earth sometimes. I've gotta say, if someone as cute as her broke into my house, then offered to suck my dick to get out of it, I'd let her steal every drop of cum in my ballsack without hesitation.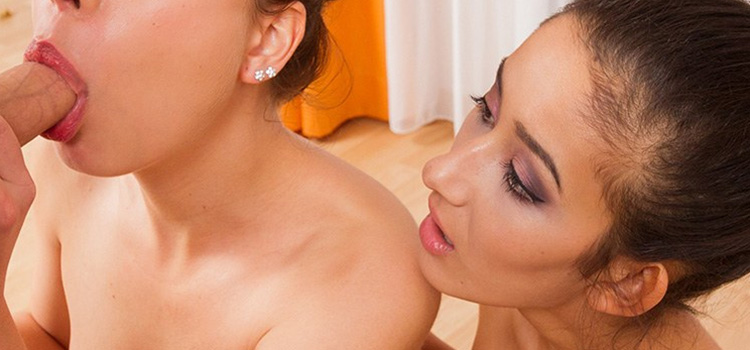 Lick My Chakra with Teressa Bizarre from Virtual Real Porn

Threesomes with hot chicks like Darcia Lee and Teressa Bizarre are the kind of thing that VR was invented for. I wouldn't even need a plot for something like this, but Virtual Real Porn just goes the extra mile anyway. These two incredibly hot babes are teaching you about tai chi, of all things, not the kind of thing you'd expect from two white girls. They're dressed in the traditional Chinese way and talking about chakras and other mystical bullshit like that, but frankly, I'm paying way more attention to their bodies than their auras right now. They can do all the crane poses they want, but it's the pose where they're on their knees sucking me off that I'm here for.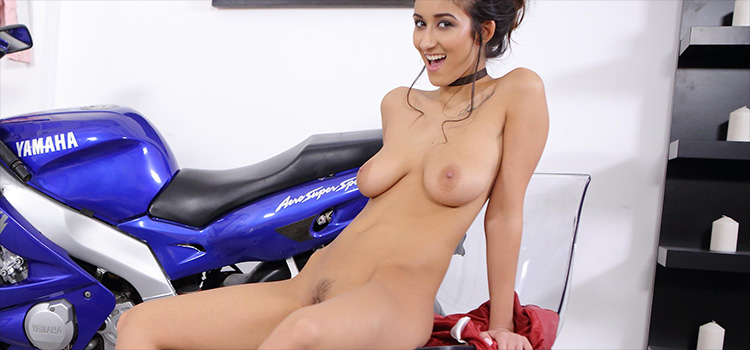 Brunette Hottie Loves Posh Bikes and Big Cocks from TmwVRNet
TmwVRNet brings us a great clip of Darcia Lee seemingly telling you off for riding your motorcycle while she's hard at work. I'll be honest, the cut here leaves me a little puzzled about the story, but I don't really care, because Darcia's so fucking hot and I love big bikes too. She makes it pretty clear that she's not really that mad at you, because you just don't get your dick sucked by a grinning girl if she's actually pissed off. I can't tell if she likes straddling fat dicks better than straddling a crotch rocket or not, but I know I'd let her rev my throttle and stomp on my clutch any day of the week. Does it get any better than a blowjob, footjob, and cowgirl by a hot European teen?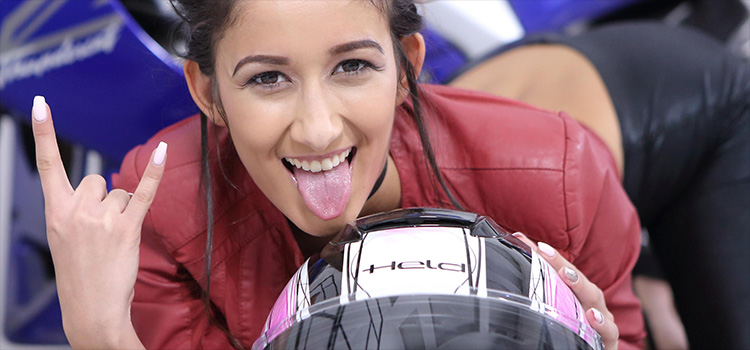 The Biker Babe in Leather Pants Shows Her Best from TmwVRNet

This clip is great for guys who like their porn a little softer, with no dicks involved. It's just Darcia Lee dressed as a hot biker babe, complete with leather pants and a top that leaves absolutely nothing to the imagination, and she's here to put on a show for you. I love that her cute tits are totally real, because it means she can bounce them all over the place for you to watch. She's got really nice nipples too, and I love watching her play with them too, but my very favorite thing is when she finally bends over and sticks that hot teen ass right in my face. She does so much wiggling and bouncing, I'm pretty much ready to blow my load right there. TmwVRNet, you guys have done it again.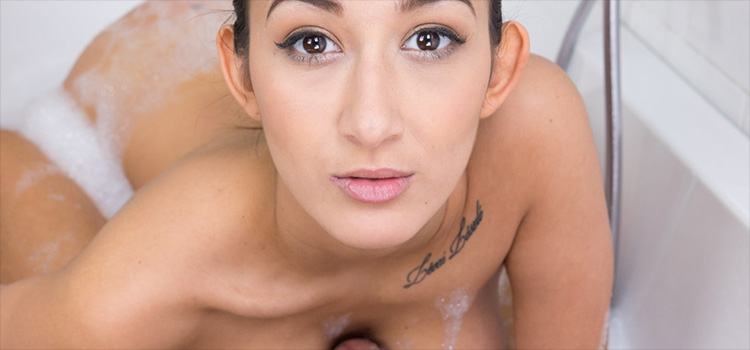 Flexi Babe In Bubbly Fun from Czech VR

The only thing better than Czech porn is Czech VR Porn. I don't know if they just have an old Soviet factory where they build girls as hot as Darcia Lee or what, but they need to keep doing it. The scenario in this scene is pretty simple: you're taking a bath and Darcia wants to join you. I'm a huge fan of girls getting wet and naked so I'm totally down with this idea. Luckily, this isn't just some tame solo girl stuff, and she blows you, straddles you, and fucks you in a variety of creative positions. There's not a lot of room in the tub so she's got to be inventive and Darcia's nubile teen body definitely comes through here. When a girl can hook her leg over your shoulder while she's standing up, you've got a keeper.